Bluebay Beach Resort
Located on the North East coast of Zanzibar in the Kiwengwa area famous for its white sandy beaches and turquoise ocean, Bluebay Beach resort offers an idyllic setting for soaking up the sun, safe swimming in a temperate ocean or indulging in a wide variety of water sports all protected by a spectacular coral reef. Created in separate bungalows with stunning views over tropical gardens to the azure Indian Ocean beyond, the 86 guest rooms have been developed using local design techniques and makuti (palm thatch) which blends naturally into the landscape. All rooms have en suite bathrooms with hair dryers, and split level air-conditioning. The resort has three restaurants and bar. Other facilities include a large fresh water swimming pool, a conference room, a business centre, flood-lit tennis court, a fitness centre with water sports easily arranged.
Dhow Palace
The 19th Century restored Dhow Palace Hotel, is located in the centre of the Zanzibar Stone Town. The Hotel has 17 self-contained rooms fitted with oriental and Zanzibari furnishings, air conditioning, and telephones. The roof top restaurant serves international and local cuisine.
Emerson & Green
Noted on their special dinners with the call to prayer setting the stage, Emerson & Green has received numerous reviews in travel magazines and guidebooks. Located in Zanzibar Stone Town it offers 10 unique rooms, with bathrooms en suite, that reflect the Arab influences of this magical island.
Zanzibar Safari Resort
Zanzibar Safari Resort is located on the East Coast at Uroa Bay, some 40 km from Zanzibar Stone town, a 40 minute drive through some of the most scenic spice and coconut plantations. The Resort has 40 guest rooms furnished Zanzibari style with en suite bathrooms, hot and cold water and air conditioning. Stroll along the pristine, white sands with great views of the endless beach and Indian Ocean, or enjoy the resort facilities including the swimming pool, beach volleyball, and flood-lit tennis court and a variety of sea sports such as windsurfing, kayaking, snorkelling and deep-sea fishing.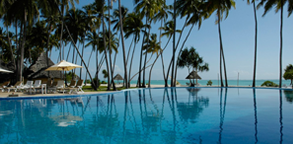 Ocean Paradise Resort
Set within the unspoiled beauty of an extensive natural palm grove and spectacular sandy beach Ocean. The grand pavilion style reception with its vast colonnaded lobby thatched in traditional Makuti invites you to experience the truly exotic ambiance of the resort and its natural surroundings. Accommodation consists of 100 bungalows designed in traditional native style using only the finest building materials. Other facilities available include Two Restaurants, Bars & Nightclub, Private Beach, Lagoon Swimming pool, Sun Lounging Terraces, Health & Fitness Centre, Water sports Centre,Tennis courts & Volleyball Barbeque areas,Tours & Activity desk, Kiosk & Souvenir Shops, Airport transfers available, Conference facilities for 20 and Business Centre. Sport activities like Table Tennis, Tennis Court (equipment available on hire), fitness centre, Billiard & Canoes, Catamarans, windsurfing, scuba diving, snorkeling and massages are also available.
Nungwi Village Beach Resort
Located on the northernmost point of the island, consists of several seafront bungalows with the traditional African style makuti thatched roofs. There are 20 rooms, all rooms are self-contained, all sea front rooms have A/C, some garden view rooms have A/C, diving and equipment hire Facilities available include massage center, telephone and e-mail service, bureau de change, Medical Emergency membership by Flying Doctors of Africa. Activities while at the resort include deep sea fishing, snorkeling, windsurfing, dhow cruises, indoor and outdoor games.