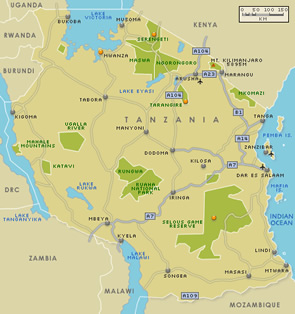 Just south of the equator, Tanzania borders Kenya and Uganda in the north; Zaire, Rwanda and Burundi in the west; and Zambia, Malawi and Moçambique in the south.
Tanzania's culture is a result of African, Arab, European and Indian influences. The African people of Tanzania represent about 120 tribal groups. The largest group are of Bantu origin including Dukuma, Nyamwezi, Makonde, Haya and Chagga. The Maasai are of Nilotic origin, as are the Arusha and the Samburu.
The Tanzanians are friendly people, to foreigners and amongst themselves. Politeness, respect and modesty are highly valued.
Note that the right hand is usually used for eating, while the left is traditionally used for toilet duties. Immodest attire, public affection and open anger are disrespectful to the Tanzanian people.